Sometimes change happens an hour at a time
Hometown Highlights
Hope for All: Shalynn's Hope
January 2020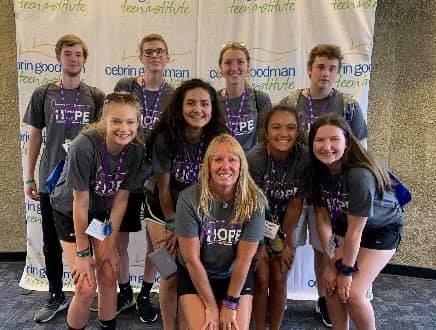 Nestled in a small central Illinois county is our next Hometown Highlight. The region of Douglas County is impacted by the national Heroin epidemic as are many areas in our state. As a result of the loss of a family member, Stacy Welch, a local mother, has moved forward to stop this heart breaking experience from happening to others. Welch is committed to helping her communities by sharing in her own journey to move forward and make Illinois a safer place to live and raise your children. The following is her story.
Shalynn's Hope Inc. was formed after Stacy Welch lost her daughter Shalynn Brooke Conner to an accidental heroin overdose on Oct. 14, 2017. Shalynn had struggled with drug addiction over four years in which Welch spent time helping her daughter to find treatment, to attend meetings and supported her daughter through her recovery. Since Shalynn passed away, Welch has worked to educate the public about substance use disorder through public forums, school assemblies, public events and working with area youth.
As a foundation, Shalynn's Hope has had the opportunity to work in many different areas to address the substance use disorder issues. Welch recently became certified by the Drug Overdose Prevention Program (DOPP) to train and distribute Narcan. Since Welch received this certification, Shalynn's Hope has purchased over $3,500 worth of Nasal Narcan, hosted local Narcan Trainings and donated Nasal Narcan to the Arcola School District.
Through Shalynn's Hope, Welch and the Foundation members have accomplished many things. Welch has been open to helping others struggling with addiction by assisting others seeking treatment and support. She has worked with Arcola School District, State's Attorney's office, Be Brave organization, Douglas County Sheriff's Office and Douglas County Health Department to organize the 2019 Douglas County Drug Awareness Assembly. As part of these efforts, they sponsored Nick Gore, a recovering heroin addict, to speak at the 2019 Douglas County Drug Awareness Assembly. Welch herself has spoken at a variety of area assemblies in central Illinois sharing her journey and her experience of moving forward to change the communities.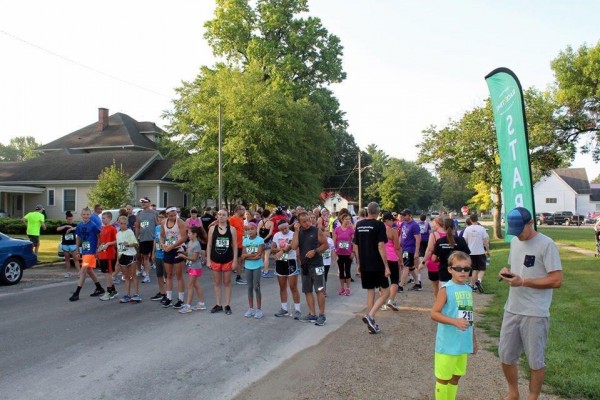 As a fundraiser to support the efforts of Shalynn's Hope, Shalynn's Shuffle has been established as an annual event. The Shuffle is a 5k run/walk that takes place during the Atwood Apple Dumpling Festival in August. In 2019, the 2nd Annual Shalynn's Shuffle brought in approximately 200 participants. Nick Gore, the recovering addict who spoke at the Douglas County Drug Awareness Assembly, also attended and spoke words of encouragement to the participants before the race.
One of the exciting events Shalynn's Hope is committed to is the sponsorship of eight students from ALAH, Arcola and Tuscola high schools that attended the Cebrin Goodman Teen Institute at Eastern Illinois University last July. As a result, these students have formed Operation HOPE (Helping Others through Prevention and Education). This is a group of students from the three schools who want to educate and prevent substance use disorders, social media bullying and negative peer pressure among the area youth. In looking at the future there are many more things in the works for Shalynn's Hope. Welch states that none of this success would have been possible without the generosity of those who have donated to Shalynn's Hope, purchased merchandise or participated in Shalynn's Shuffle.
You can find out more about Shalynn's Hope at www.shalynnshope.org and on Shalynn's Hope Facebook page.
---
The Community That Said YES When Ask to "Step Up"
August 2019
What happens when a diverse group of community leaders gather together to fill in the gaps? A lot! Lives have been saved, connections made, communities impacted, families brought back together, youth empowered. When citizens were ask, "Will you step up to tackle the toughest challenges in our community?" The answer was a resounding "yes." What follows is a unique story that came from that single question.
Step Up Vermilion County was launched in August of 2017 at a Global Leadership Summit when the summit attendees were invited to Step Up and unite to lead Vermilion County in a positive direction. The first Step Up Vermilion County meeting was held on September 29th, 2017. At that meeting, and all following Step Up Vermilion County meetings, every sector of the community has been represented including government, social service, law enforcement, media, business, churches, healthcare, education, and nonprofit organizations. The bi-monthly Step Up Vermilion County meetings average around 100 people, with 243 individuals involved in 2018.
As the community representatives came together, a mission developed. It reads, "Step Up Vermilion County exists to bring the community together to identify and address current challenges facing the county and empower growth and development, creating positive outcomes in economic, educational, social and spiritual arenas."
At the September 29th, 2017 the Step Up Vermilion County members did a SWOT analysis. As a result the groups top issues were identified: Parenting and Family, Drug and Substance Abuse, and Mental Health. This became the focus of "Step Up" Vermilion County. A group of over 200 community leaders worked on these key issues in 2018 to create success stories that continue impacting lives in Vermilion County today. Together they have impacted over 60,000 lives and continue to do so.
Highlights:
Central Illinois Community Health Network Growth: The CICHN database increased by more than 200% during 2018 as a direct result of the Parenting and Family Workgroup efforts. The number of participating agencies increased from 20 to 65 during 2018. The CICHN database is utilized daily by Vermilion County agencies to post agency announcements, share client needs, post area alerts, and even collaborate on case work. Based on the data that can be pulled from the CICHN database, 2582 client cases of assistance have been recorded.
Transformation Thursday Classes through Love INC: In 2018, 38 participants graduated from these courses that included money management, positive discipline and parenting, setting boundaries, and self-worth. More than 70 volunteers from 20+ churches provided approximately 150 hours of volunteer service to these families.
Rosecrance and District 118 Partnership: Through the partnership, developed as a result of Step Up Vermilion County, Rosecrance is able to provide the Too Good For Drugs curriculum to District 118 students. This evidence-based program teaches the fundamental elements of social and emotional learning through developmentally appropriate activities that set the foundation for a healthy adolescence. As a result of the partnership, nearly 400 elementary students in District 118 received this educational material.
StepOne Service: Through multiple conversations with Step Up Vermilion County leaders involved in local health care, it was determined in 2018 that there was a need for inpatient medical management of withdrawal symptoms in Danville. The culmination of this work and research in 2018 resulted in OSF HealthCare Sacred Heart Medical Center providing an in-patient, hospital based, withdrawal service for adults who require medical management of withdrawal symptoms from alcohol or opioids. This service in Vermilion County at OSF SHMC is through a contract with StepOne agency.
Step Up Vermilion County Car: The Step Up Vermilion County Car is managed by Second Church of Christ. The car transports Vermilion County Residents to inpatient treatment centers that are outside of the county. In 2018, 15 residents were transported by Step Up Vermilion County volunteers to treatment centers using the car.
Addiction and Recovery Resource Cards: In 2018, over 10,000 cards were printed and distributed throughout the county by Vermilion County Police Officers. When individuals that the officers interact with are seeking treatment options, officers now have a suitable way to make sure that they are giving out accurate information about local resources
211 Utilization: As the Mental Health Workgroup created a marketing plan for 211 in our county, the number of calls to the line trickled upward. As a direct result of their efforts, sharing and updating the 211 services list, the number of calls increased from 724 calls in 2017 to 877 calls in 2018. That is an increase of 153 calls.
Mental Health Awareness Week: Members of the Mental Health Workgroup worked with the Danville city council to pass a mayoral proclamation declaring the first Mental Health Awareness Week in Danville and Vermilion County for the third week of May in 2018 and annually.
Increase Number of Mental Health First Aid Trainings: The Vermilion County Mental Health 708 board received a grant to teach the Mental Health First Aid curriculum in Vermilion County. As a result of the Vermilion County Mental Health 708 Board and Step Up Vermilion County's efforts, 42 Mental Health First Aid trainings were held in 2018, with 586 people trained to be first responders in a mental health crisis.
For more information, contact:

Deanna Witzel
Step Up Vermilion County Leadership Team
PO Box 2507, Danville, IL 61834
[Please enable javascript.] or [Please enable javascript.]
---
STAY TUNED!!!
I want to take this opportunity to welcome you to the recently updated Illinois Family Resources website. One of the exciting changes for the website is the addition of the Hometown Highlights page. A different community/local program or project that supports families experiencing substance use disorder (SUD's) issues will be periodically highlighted. The page will offer a resource to persons seeking ideas for making a difference in their own family and communities as well as for those seeking help.
If you are interested in submitting a program or project for consideration, please contact the Coordinator.
I also want to thank you for your past support of the Illinois Family Resource Center.
Sincerely,
Nancy J. Phillips, M.S.Ed., CAADC, CFPP
Coordinator, Illinois Family Center