Sometimes change happens an hour at a time
For Providers
We offer information for providers and community members with an interest in supporting substance use disorder services for adolescents, young adults, and their families. Illinois Family Resources is available to provide technical assistance, in-services workshops and trainings.
---
November 2021
Don't miss out on National Drug and Alcohol Facts Week® 2022. This annual event is a great opportunity to involve our youth and the families in learning and celebrating healthy environments. The National Institute on Drug Abuse (NIDA) and the National Institute on Alcohol Abuse and Alcoholism have officially opened registration for National Drug and Alcohol Facts Week® (NDAFW) 2022. The annual observance will take place March 21‒27, 2022 so begin planning. Use NIDA's resources to help support teens and focus on increasing protective factors to help reduce negative outcomes. Check out the support for planning. This is a great time to invite families on a recovery journey to participate in their community.
Visit NDAFW 2022: Registration is Now Open! (mailchi.mp)
---

September 2021
The Peer Recovery CoE is pleased to share Peer Recovery Support: Evolving Roles and Settings: A Literature Review. Peers serve many roles in many settings. There is emerging research that explores the value of using peer recovery support services (PRSS) across these settings. This literature review was put together in an effort to gather all of the information into one place as well as identify gaps in order to make recommendations for the future. In it, you will find an overview of current settings utilizing peer recovery support services, key findings, and recommendations for future study. This information deepens our understanding of the peer roles, job functions, and tasks in a wide range of settings. The research is promising—and there is much more to do to grow PRSS further. Visit FINAL Literature Review.pdf (peerrecoverynow.org.
---
Recovery Month
August 2021
The 2021 September National Recovery Month is coming soon. Join in with the theme, "Recovery is For Everyone: Every Person, Every Family, Every Community." This is a reminder for people in recovery and those who support them that no one is alone in the journey through recovery. Everyone's journey is different, but we are all in this together. Plan to join in with your friends and community to celebrate. Check out the toolkit for planning.
https://rm.facesandvoicesofrecovery.org/resource/2021_recovery-month-toolkit/ and visit https://www.naadac.org/national-recovery-month.
---
Mental Health
August 2021
I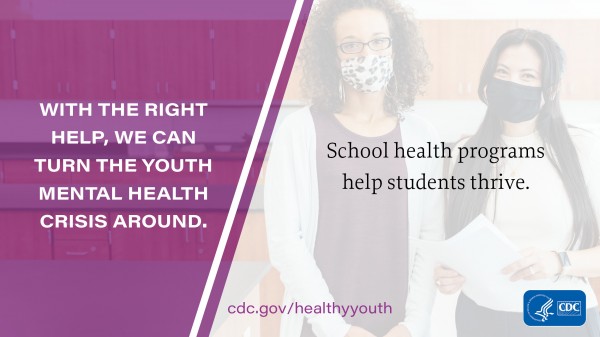 f you work in an environment that impacts our young people and their mental health, you can make a difference. If you are a human service provider working in child welfare, substance use disorder or mental health, take the time to review the materials provided by the Center for
Disease Control and Prevention (CDC). As a community organization, link with your area school staff and train them to promote a safe and supportive environment for students. Learn more about what works as students head back to school. Visit: https://go.usa.gov/xFx6gexternal icon. Access the CDC school handbooks on Back-to-School: Helping Students Thrive | CDC web pages. Have a healthy school year ahead.
Department of Education handbooks
Page last reviewed: July 26, 2021: Content source: Division of Adolescent and School Health, National Center for HIV/AIDS, Viral Hepatitis, STD, and TB Prevention
---
Providers Resource
July 2021
If you are a teacher, therapist or community member concerned about how to share the information related to alcohol/cannabis use decisions and our youth, the "Ask. Listen and Learn" website has a series about the effect of alcohol on the developing brain. There are seven lesson plans that teach our students and clients and one lesson about cannabis. This extends our kids' knowledge and gives them even more reasons to remain substance-free or begin a recovery journey.. Everything you need is available right here from Educational Materials – Ask, Listen, Learn – Teaching Resources & More (asklistenlearn.org). Make your summer focus an opportunity to share information for a safe lifestyle.
---
Providers Resource
August 2020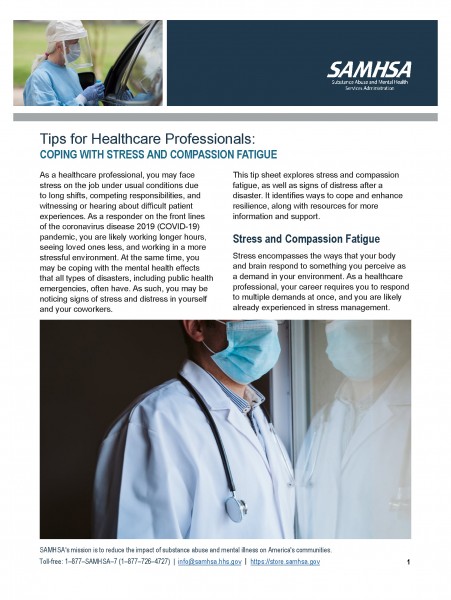 Are you a person providing healthcare in these times of the COVID-19 pandemic? The Substance Abuse & Mental Health Services Administration (SAMHSA) has developed a tip sheet, Tips for Healthcare Professionals: Coping with Stress and Compassion Fatigue, that explores stress and compassion fatigue, as well as signs of distress after a disaster. It identifies ways to cope and enhance resilience, along with resources for more information and support. Hint: If you are a volunteer in this environment, this tip sheet is a good resource for you too. Visit https://store.samhsa.gov/sites/default/files/product_thumbnails/PEP20-01-01-016%20-%20Thumbnail.jpg for more information.
---
Transform Your Tobacco Cessation Practice with Telehealth
May 2020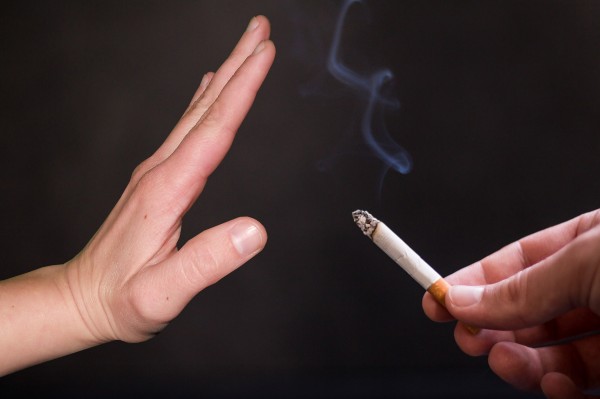 The National Behavioral Health Network for Tobacco & Cancer Control shared that there is growing research from the CDC that shows tobacco users and individuals with pre-existing respiratory conditions (such as lung cancer or chronic obstructive pulmonary disease) are at a higher risk for severe complications from COVID-19. With the growth of telehealth services across the country in response to COVID-19, the option for delivering tobacco cessation services remotely is critical to ensure these at-risk clients feel engaged and supported.
The National Behavioral Health Network for Tobacco and Cancer Control, UCSF's Smoking Cessation Leadership Center (SCLC) and SAMHSA National Center of Excellence for Tobacco-Free Recovery (CTFR), along with the American Lung Association are offering a webinar on May 14 from 12 – 1:30 p.m. ET for Transforming Your Tobacco Cessation Practice with Telehealth. The webinar is led by a varied panel of tobacco cessation and telehealth care management experts and the webinar will explore ways to integrate best practices for telehealth services into your tobacco cessation efforts. The group will also release a complimentary resource guide to support behavioral health providers in the use of telehealth for providing tobacco cessation services.
To register, visit:

https://zoom.us/webinar/register/WN_8sJ_BWOeTzq1X1jyCw-i1Q?mkt_tok=eyJpIjoiWlRNMll6TTBPVFprTXpsayIsInQiOiJuRFVMVU5ia0FzVTFnYXF4blwvWjJDQU0xTUllQUJvZ0xxMXE5WnlRK2xQOEpkZlNMR1p6VzlLdkNMQnMzKzhMYUhaVnVJMW5JblwveWtHTmtDbG1rUUxtTjJJZ3hOVzZWQXFUVlk4TXRMRFZ6NjUwY1Y1eUQwNXJzQWx3ZHpCN2VVIn0%3D
---
The Mind Matters Series
May 2020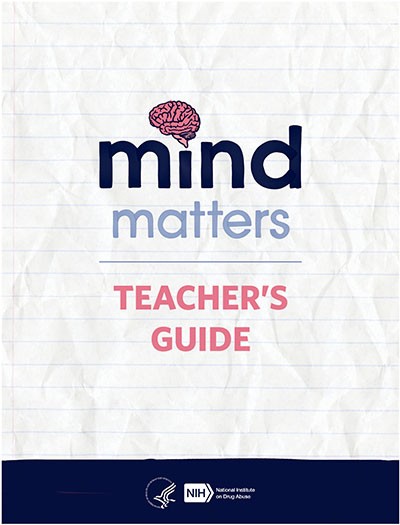 Don't miss the new Mind Matters Series for teen education. The National Institute on Drug Abuse (NIDA) has launched a redesigned series of booklets geared towards educating middle school students about substance use. As substance abuse providers and community leaders, this is great information to have in your "tool box."
The Mind Matters series consists of nine booklets on various drug topics. The series was designed to help students in grades 5 through 8 understand the effects and consequences of drug use on the brain and body. The accompanying online Teacher's Guide includes science-based information and engaging activities to enhance learning. In addition, short video clips are available to supplement the lessons.
Hard copies of the English booklets can be ordered for free; both English and Spanish booklets, as well as the accompanying Teacher's Guide, are all available online in printable PDFs.
Keep up with the latest. Remember, these tools are great to share with parents and caregivers who are learning about substance use disorder and may be concerned about someone they love.
---
Keeping Our Children Safe
April 23, 2020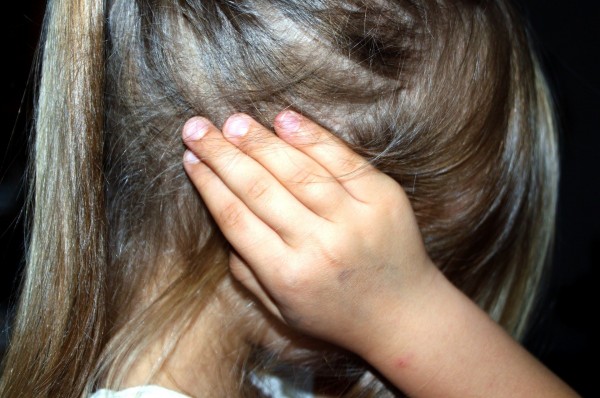 As the Division of Substance Use Prevention and Recovery (SUPR) providers and other human service workers deal with the challenging issues related to providing help during the COVID-19 pandemic, we must not forget the issue of isolation that social distancing does for those who are at risk of abuse and violence by those they are "isolated" with. This issue is especially important for our children who may be victims or witness abuse.
To help you find resources that may support you in your pressured time, the following links are provided. The first link is to the Blog site and postings that William L. White writes and forwards for those signed up to receive his reflections and his wisdom from his years of experience in the SUD's field. The second link is to the Prevent Child Abuse webpage that encompasses many resources for keeping our children safe.
Take a minute and review the information. It may make a great difference in our children's and family's life in this trying time.
Thank you for your commitment to helping our families and communities in this risky time. Be safe.
Read the reflections offered in the Sheltering at Home with an Addicted Parent at: http://www.williamwhitepapers.com/blog/2020/04/sheltering-at-home-with-an-addicted-parent.html.

Review the safety tips in Coronavirus Tips & Resources for Parents, Children, Educators & Others:
---
Resources for Talking with Children and Youth about Coronavirus
April 3, 2020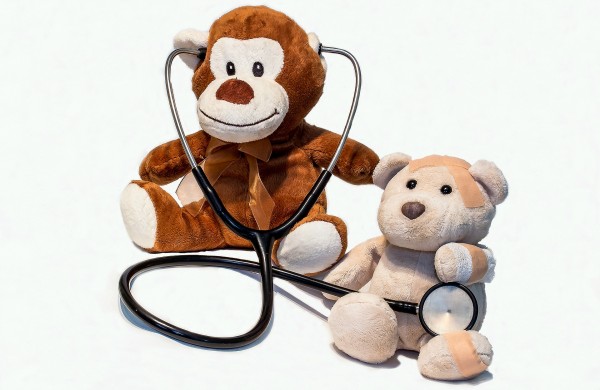 As we go through the COVID-19 crisis in our communities, it is important to keep all resources available to you as you address the needs of your clients and your community at-large. Below is a list of resources developed by FREDLA that may be of help to SUPR and other human service organizations trying to provide support. The list includes help from the following: Child Mind Institute, Humanity Crew, Child Traumatic Stress Network, Mental Health America, and SAMHSA. Take a look at the following and be safe.
---
Building a Stronger Understanding of Marijuana Use
Posted February 2020

As Illinois addresses the legalization of the recreational use of marijuana by those over the age of 21 years, teens may be getting the message that the drug is safe. The effect and potential misunderstanding by those under the legal age needs to be addressed. One of the current resources available to both the human service field and to our community's schools are the resources provided by the National Institute on Drug Abuse and Scholastics. In 2019, the two partnered to provide an updated lesson plan that address the REAL RISKS of marijuana use. The lesson includes an article and worksheet will motivate the students to think critically about both the long-term and the short-tern health effects. It focuses on how marijuana use can affect their lives. Remember this marijuana fact: Marijuana is linked to problems in school. Marijuana dulls attention, memory, and learning skills. The effects can last for days and sometimes weeks, depending on how often it's used.
---
E-Cigarettes and Health
November 2019
As parents, providers and educators, we are all concerned about the information surfacing in regard to E-Cigarettes and health of our young people. Research indicates that teens now use e-cigarettes more than any other nicotine-containing product. E-cigarettes (example: JUUL) contain the same addictive nicotine found in cigarettes. You can help the youth in your environment understand the risks of vaping, (use of e-cigarettes) with the recently released lesson plans and activities developed by the National Institute of Drug Abuse and Scholastics.
Visit the Lesson Plan and Activity Finder that provides free science and standards-based classroom lessons. It also offers multimedia activities about the science of drug use to help you keep your young people informed and safe. Find lesson plans and activities to bolster your existing curriculum at the following:
---
Supporting Our Children
October 2019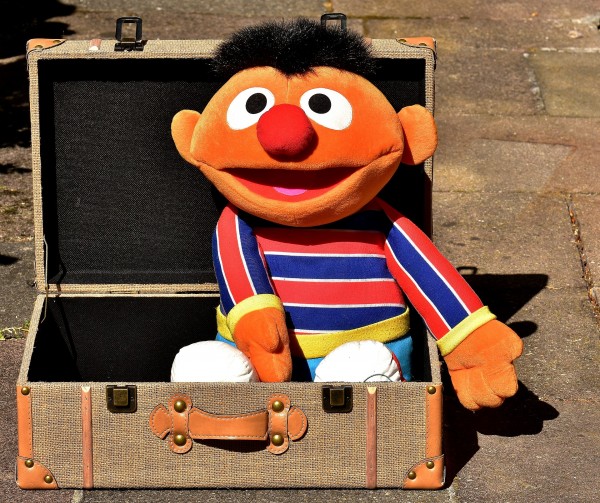 As we seek ways to support our families and young adults, we should not forget some of the people often the most impacted by the stress and chaos created by family substance use disorders and mental health issues. These are our youngest family members impacted by an environment that they cannot control. This experience may leave a trail of trauma that is not recognized or not addressed. In order to begin to learn more regarding ways to address and support our youngest, two resources for providers are described below.
ACEs Connection: ACEs (Adverse Childhood Experiences) Connection is a social network that recognizes the impact of a wide variety of adverse childhood experiences (ACEs) in shaping adult behavior and health. The Connection promotes trauma-informed and resilience-building practices and policies for all families, organizations, systems and communities. To receive a daily update of information and resources addressing trauma, go to: www.acesconnectioninfo.com/join-aces-connection.
Sesame Street in Communities: The Sesame Street in Communities website provides resources and tools for community providers in making a difference by helping children and families grow smarter, stronger, and kinder. This is done by helping organizations unite their communities, support families, foster families and build children's resilience. Sesame Street in Communities provides tools to address life issues such as family addiction, grief/loss and incarceration of a family member in age appropriate ways. This is accomplished with video's, coloring pages and activities designed for our young family members. Visit: www.sesamestreetincommunities.org.
---
A Dangerous Mix
September 2019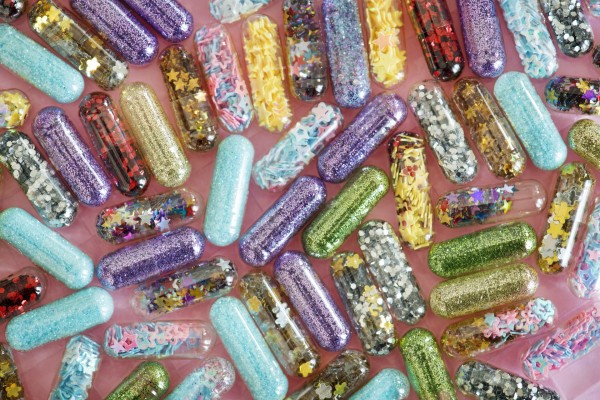 Many teens regularly take medications and over-the-counter drugs. They may not know that mixing substances can cause unexpected and dangerous effects. Those risks are even greater when alcohol and illicit drugs are involved. If you are a human service provider that collaborates with your area schools in substance use disorder prevention here is a new (2019) resource for you. In a collaboration with the National Institute on Drug Abuse for Teens (NIDA), Scholastic's has developed a lesson plan called A Dangerous Mix. By sharing the student article "A Dangerous Mix," teaching the lesson, and handing out the activity sheet, educators will help students be smart about medicine safety. This lesson plan is adapted to fourth grade and up. Whether you deliver the lesson yourself or provide the resource to your area educators, this is an important part of addressing the prescription abuse our communities are experiencing. Help keep our youth informed and safe. The materials are available to download at:
---
Adolescent Substance Use, Addiction, and Treatment: A TAG Talk
January 2019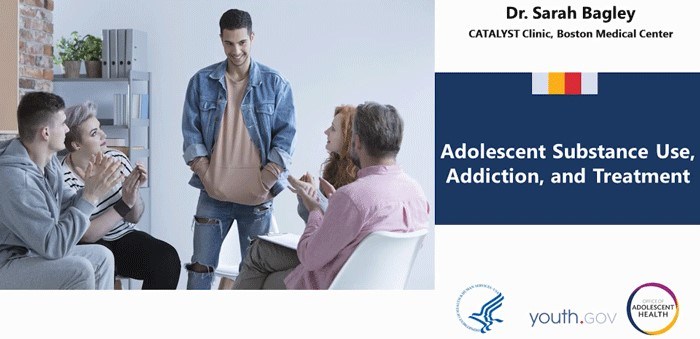 During this time of concern about the opioid addiction crisis and the research on the brain development of young adults, the following resource may provide an opportunity to train your staff, learn more about the issues of today's youth and provide ongoing help as you work in your communities and with youth. The U.S. Office of Adolescent Health has worked with an Interagency Working Group on Youth Programs and the Boston University School of Medicine staff from the addiction treatment clinic for teens and young adults at Boston Medical Center to develop a video. The video addresses substance use and addiction in adolescents and young adults. It offers the most effective approaches to treating addiction, including opioid addiction.
This video is the fourth in a series of TAG Talks and addresses substance use and addiction in adolescents and young adults. It shares the most effective approaches to treating addiction, including opioid addiction. The video is accompanied by two discussion guides, one for professionals and one for families, citations, and additional resources for interested viewers.
You may link to this resource at: https://youth.gov/feature-article/adolescent-substance-use-addiction-and-treatment-tag-talk
---
"Not Fit for Human Consumption": A Lesson Guide
December 2018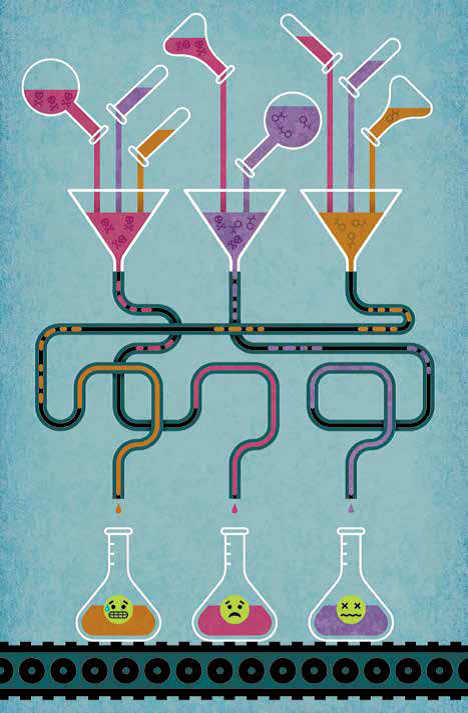 In recent years, there has been a rise in the number of health emergencies and overdoses related to drugs that are made illegally in laboratories. These synthetic drugs are created in illegal labs to imitate the effects of other, more commonly known substances, such as marijuana or prescription pain medications. These unregulated drugs can be even more dangerous than their counterparts. Scholastic, in partnership with the National Institute on Drug Abuse (NIDA), has developed a lesson plan that may be incorporated into current classroom curriculum or group work in treatment settings. The lesson, "Not Fit for Human Consumption", supports the participants in learning about synthetic drugs—drugs created to mimic other drugs. This may include opioids (example: fentanyl), marijuana (examples: Spice, K2); and cathinones (example: "bath salts"). They also learn why synthetic drugs may be more dangerous than their counterparts and why they are so difficult to regulate.
To access this addition to your resources go to:
https://teens.drugabuse.gov/teachers/lessonplans/not-fit-human-consumption.
---
Coming Soon: Recovery Month
June 2018

The Substance Abuse and Mental Health Services Administration (SAMHSA), within the U.S. Department of Health and Human Services (HHS), is sponsoring the 23rd National Recovery Month. Recovery Month focuses on increasing awareness and understanding of mental health and substance use disorders. It is an opportunity to celebrate the people in recovery. Each September, thousands of prevention, treatment, and recovery programs and facilities around our country celebrate Recovery Month, giving those in recovery the opportunity share about the advances made and share their success stories.
The theme for Recovery Month 2018 is Join the Voices for Recovery: Invest in Health, Home, Purpose, and Community. The 2018 theme explores how integrated care, a strong community, sense of purpose, and leadership contributes to effective treatments that support the recovery journey of persons with mental health and substance use disorders.
It is time to plan for your celebration. To help with this process, SAMHSA offers a Recovery Month Toolkit. To assist you in planning, check out the Toolkit available on the website: https://recoverymonth.gov/sites/default/files/toolkit/recovery_month_2018_full_toolkit.pdf. In addition, you will find logos, banners, flyers, and customizable posters to promote Recovery Month on social media, your website, and in your community at: https://recoverymonth.gov/promote/banners-logos-flyers.
Join the millions celebrating recovery in September!! Become a "Voice for Recovery."
---
The Illinois Opioid Action Plan
May 2018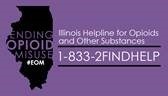 As this country faces the Opioid Epidemic, it is important for the human service providers and educators to have a good understanding of the strategies designed to address the issues in Illinois and in our communities. The causes of the epidemic are complex. Thus, the state government must work with everyone. That includes health care providers, local agencies, law enforcement, community groups, and individual citizens, all working toward a solution.
To meet this need, the Illinois Opioid Action Plan was developed. The Plan is the strategic framework for the future work. The Plan was finalized in September 2017. It focuses on three pillars that have six main priories and nine evidence-based strategies. The pillars are:
Prevention
Treatment and Recovery
Response
To begin the work ahead, you will find the Illinois Opioid Action Plan on the Illinois Department of Public Health website at: http://dph.illinois.gov/opioids/ilplan.
Listed below are additional resources to use in your work of addressing the opioid crisis.
Together we can make a difference.
---
Synthetic Cannabinoid Outbreak
April 2018
As many providers are aware, there has been a recent concern related to the known adverse reactions to using synthetic cannabinoids believed to be laced with rat poison. Between April 24, 2018 and March 7, 2018, the Illinois Department of Public Health (IDPH) has documented over 153 cases. This includes four deaths since March 7, 2018. The individuals reported the synthetic cannabinoid products, such as K2, spice, marijuana and legal weed, were obtained from convenience stores or dealers or friends. These products are sold for recreational use and marketed to the user as generating similar effects of cannabis.
As a human service provider, it is important to warn our communities and our consumers about the danger of these products that are being peddled as a safe and legal alternative to marijuana. If you have not reviewed the information provided by the IDPH, please visit their website. The website is updated daily at 1:30 p.m. and the update will continue as long as the outbreak is occurring. The site also has infographics that can be posted and other websites that can be shared to help inform and educate. To make use of the information, link to the following: http://www.dph.illinois.gov/topics-services/prevention-wellness/medical-cannabis/synthetic-cannabinoids
To assist you, the provider, in distributing the information into communities, you are encouraged to link onto the tools provided on the IDPH website. To access colorful and informative posters that you may print and distribute, visit: https://www.drugabuse.gov/related-topics/trends-statistics/infographics/synthetic-cannabinoids-k2spice-unpredictable-danger. Help create a safer environment.
---
What are They Thinking?
March 2018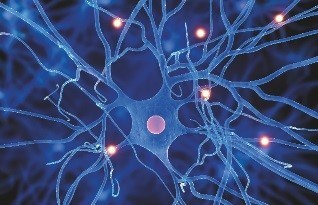 Do you sometimes wonder what is going on with the teens and young adults you work with? Do you get frustrated because they are not using their "brain" to make appropriate decisions? Do you try to justify that they are old enough to know how to behave in a healthier manner? Well… take a deep breath and read about a great resource for understanding how and why the "brain" of these young people is not working as you may believe it should.
With all the newer research regarding how the brain neurons grow and develop, we, as professionals, can begin to adjust our expectations of teens and young adults within our treatment services for Substance Use Disorder and mental health issues. The U.S. Department of Health and Human Services, Office of Adolescent Health, worked in collaboration with the Interagency Working Group on Youth Programs and the Penn Translational Neuroscience Center Co-Director Dr. Frances Jensen in developing a video and discussion guides about the adolescent brain development research. The video, The Power of the Adolescent Brain: A TAG Talk, is motivated by her parenting of teens, clinical experience and research. Dr. Jensen shares what researchers have discovered about young adult brain development, functioning and capacity. She provides practical ideas for providers and families in dealing with young people.
The video can be viewed in full length format or in six segments for individual viewing or for group viewing. There are two discussion guides for professionals and for families that support the video. To access these resources, go to: https://youth.gov/feature-article/power-adolescent-brain-tag-talk.
---
Managing Trauma
February 2018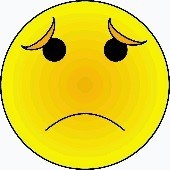 Recent traumatic events in our country have created stressful and worrisome times for students, schools and parents alike. As a human service field, it is important that providers and agencies are prepared to address the trauma and support the healing process. An important strategy providers to use in the effort to help is to bolster resilience in our young people. This is especially true for teens and young adults who have lived through a traumatic or threatening experience. In response to this need, the website youth.gov has compiled the following list of federal resources for those who work with our young population:
Interagency Working Group on Youth Programs
U.S. Department of Health and Human Services
U.S. Department of Education
U.S. Department of Homeland Security
Each agency provides several resources to help address the needs of our teens and young adults in these stressful times. To access the resources, link to:
https://youth.gov/?utm_source=youth.gov&utm_medium=email&utm_term=ShootingResponse18&utm_campaign=newsletter
---
Plan Now!!
August 2017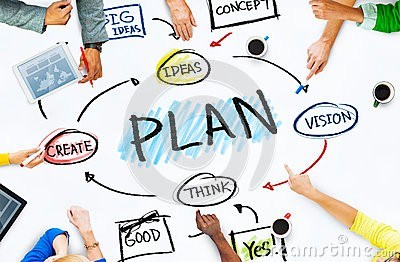 The next National Drug & Alcohol Facts Week (NDAFW) will be held Jan. 22-28, 2018. The National Institute on Drug Abuse (NIDA) and the National Institute on Alcohol Abuse and Alcoholism (NIAAA) sponsors NDAFW as an annual, week-long series of educational events that brings together teens and scientific experts to SHATTER THE MYTHS about substance use and addiction. NIDA and NIAAA announced that local event registration begins today for the annual event. NIDA and NIAAA are both part of the National Institutes of Health.
NDAFW events can be held by an assortment of organizations that may include agencies, organizations, schools, community groups, sports clubs, and hospitals. Activities can focus on general drug use or on specific issues of concern in individual communities. To register your event go to: https://www.nih.gov/news-events/news-releases/event-registration-opens-national-drug-alcohol-facts-week
---
Learning Tool to Enhance Group Activities
February 2017
Do you facilitate a group as part of substance abuse treatment?
Do you struggle with how to keep the participants actively engaged?
Do you teach a health education class that addresses substance abuse issues?
If your answer is YES, the National Institute on Drug Abuse (NIDA) has developed a new BINGO GAME activity to be used by teachers and group facilitators. It was offered as an activity to use during the National Drug and Alcohol Facts Week (NDAFW). The NDAFW week was held last month but to support ongoing efforts, the NDAFW web page posted the new BINGO GAME for ongoing use in the classroom and group setting. The game, instead of displaying the words BINGO at the top, uses the five letters NDAFW. Using the same process as traditional Bingo, the activity leader will call out a vocabulary word, rather than a number, and read the description that follows. If the player has the word under the correct letter, that space is covered. The point of the game is to educate players about certain topics and facts related to drug and alcohol use in an interesting and fun manner. The game continues until a player has a winning "BINGO" pattern. To liven up your group and enhance learning, download the NIDA game from: https://teens.drugabuse.gov/national-drug-alcohol-facts-week/get-activity-ideas/ndafw-bingo.
---
Support National Drug & Alcohol Facts Week
January 2017
It's not too late to be a part of the National Drug & Alcohol Facts Week (NDAFW). The week is a national health observance week for teens that promotes local educational activities and events. The week is sponsored by the National Institute on Drug Abuse (NIDA) and the National Institute on Alcohol Abuse and Alcoholism (NIAAA). It uses NIDA science based information to SHATTER THE MYTHS about drugs. Take advantage of the learning opportunities for the young people in your community and become a participant in the week's activities. Try the new, fun activity: NDAFW BINGO! To access the NDAFW BINGO and many other fun learning resources, link on to https://teens.drugabuse.gov/national-drug-alcohol-facts-week.