Sometimes change happens an hour at a time
Family Life: Family Recovery
---
September 2023
Recovery for Youth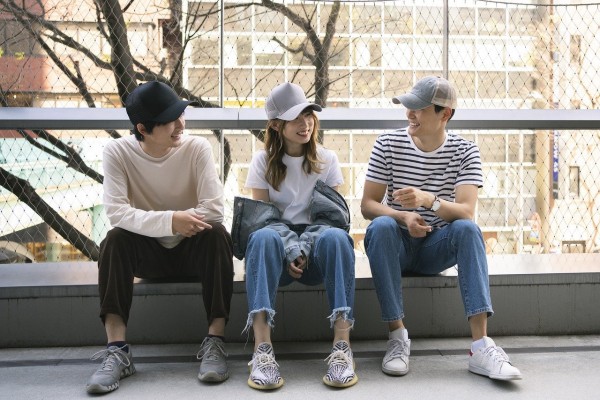 As we enter Recovery Month 2023, there are many resources to access and learn about recovery for families and communities. The Partnership to End Addiction understands recovery is an ongoing process and they are available every step of the way to ensure families are prepared to support their loved one. Many families have children in recovery, and what that word means to each can vary. While the process can be challenging, there are ways to reduce the risks associated with substance use and promote well-being.
Learn more at the: Recovery Resource Center at: Partnership to End Addiction (drugfree.org)

---

August 2023
Play, Play and Play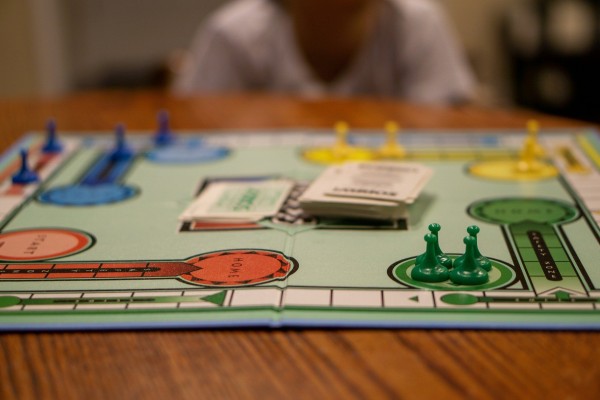 Psychology Today encourages us to play. "Play—or fun, imaginative, relaxed, and self-directed activities—is a key part of life for children and adults alike. Play tends to be self-chosen, removed in some way from "real" life, and governed by a set of rules determined by the players, rather than an outside source. Play has myriad payoffs and is more common in children than adults; however, adults can and do play, often to their own benefit." Explore healthy play as part of a recovery journey from substance use and mental health concerns.
Check out Play | Psychology Today.
---
June 2023
June is Reunification Month

This is a time for all who are working with families working toward reuniting to focus and celebrate as recovery builds and families reunite. Families are resilient and strong. For many, substance misuse is at the base of family issues and the need for kinship care and/or legal concerns. This Reunification Month reminds us that we must commit to identifying effective strategies to reunify families. The Children's Bureau is providing resources for both kinship care, professionals and families regarding family recovery. Use these resources to help engage children and families in the reunification process, equip parents to resolve issues that led to family separation, help increase reunification rates for families from diverse backgrounds, and address racial disproportionality and disparity in child welfare.
Visit: Children's Bureau (CB) | The Administration for Children and Families (hhs.gov).
---
June 2023
Sesame Street Announcement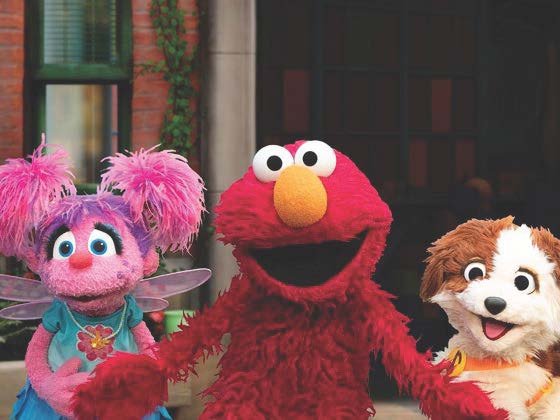 Sesame Workshop, the nonprofit educational organization behind Sesame Street, announced a new organization-wide focus on the emotional well-being of young children and their families. Responding to the growing mental health crisis for young children and building on decades of experience developing social-emotional learning content for families, the Workshop will address this critical need through a wide range of activities and engaging content designed for the whole family and available on multiple platforms to reach children and families wherever they are.
Check out: Sesame Workshop Announces Multi-Year Commitment to the Emotional Well-Being of Young Children and Families - Sesame Workshop
---
May 2023
Resources for Our Little Ones Living with Substance Misuse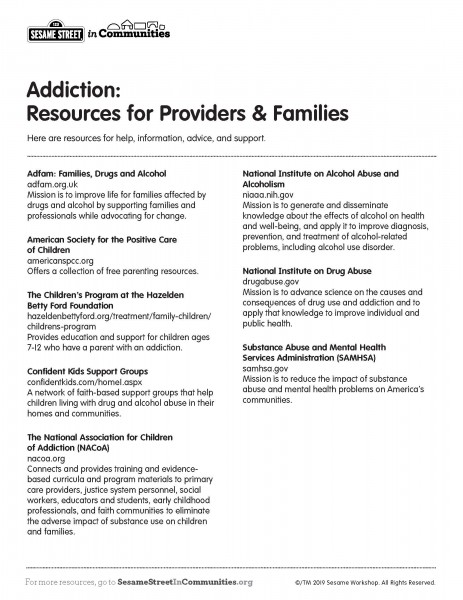 If you work with families with little ones who are impacted by substance misuse, take time to check out the resources offered by Sesame Street in Communities. If you are a family member struggling with the impact of a parent or caregiver's substance misuse, check out Sesame Street in Communities and the many age appropriate resources offered.
Parental Addiction | Sesame Street in Communities - Sesame Street in Communities
---
March 2023
Join Us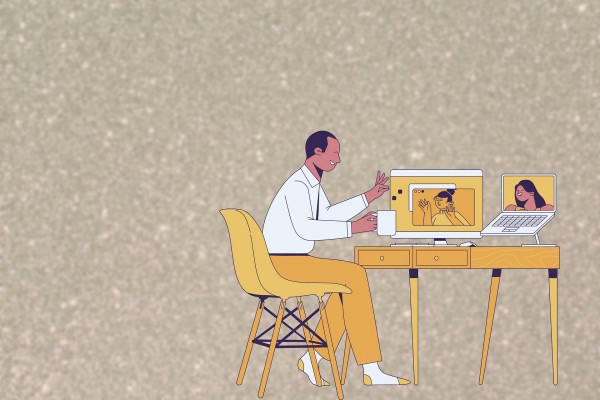 Today's Reminder from Al-Anon:
"It is the sharing experience and hope that makes our Al-Anon contacts so important to us. Every time we read something about how Al-Anon works, every time we attend a meeting or talk with a fellow member by telephone, we grow in serenity and strength." Join Al-Anon in person or virtually.
Find peace and serenity. https://al-anon.org
---
February 2023
This Week's Challenge from Sesame Street in Communities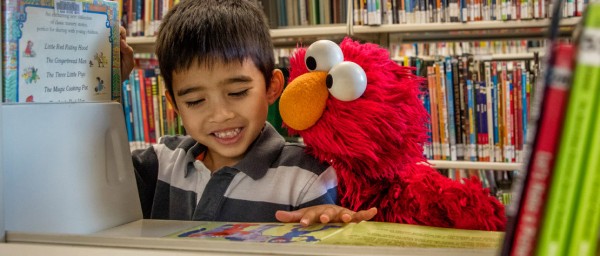 Each day this week, take note of a moment that went well. Celebrate with something that makes you feel good, like a piece of chocolate, a happy dance, or ten minutes with a good book.
As a parent or caregiver, take advantage of the resources provided on the Sesame Street in Communities website. If you are parenting in a chaotic environment, take a breath and use the support offered.
Visit: Sesame Street in Communities <[Please enable javascript.]>
---
February 2023
A Nurturing Parent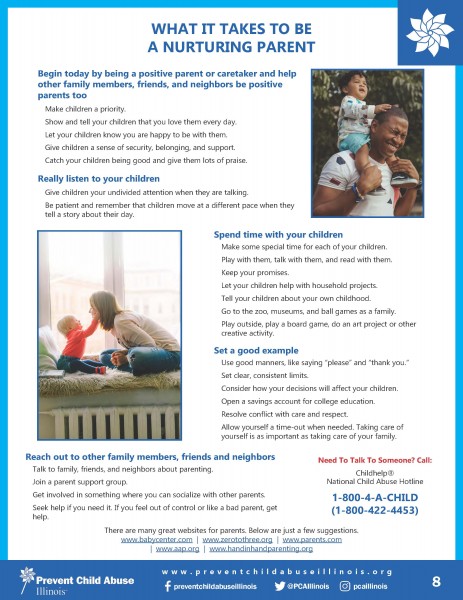 Begin today by being a positive parent or caretaker and help other family members, friends, and neighbors be positive
parents too. Take a look at the guide from Prevent Child Abuse Illinois in support of the coming Prevent Child Abuse Month of April. Be the best child caregiver you can be. Create happy memories, support safety measures and love with kindness.
Check out the information from PCA: CAP Month Packet 2023_RED.pdf
---
January 2023
One Day At a Time in Al-Anon shares: "The more I immerse myself in Al-Anon teachings, the more I will get from them and the more I can help others."
Check out the support of Al-Anon at https://al-anon.org.
---
January 2023
Caring Matters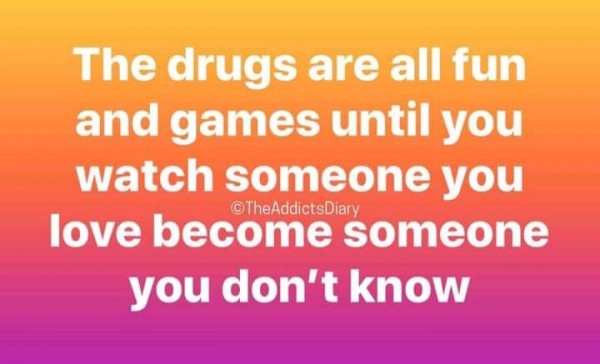 Learn how to take care of yourself if a person you love is experiencing substance use issues. Taking care of yourself is the key to being a strong support for your loved one. Visit:
www.smartrecovery.org>family.
---
December 2022
Al-Anon Message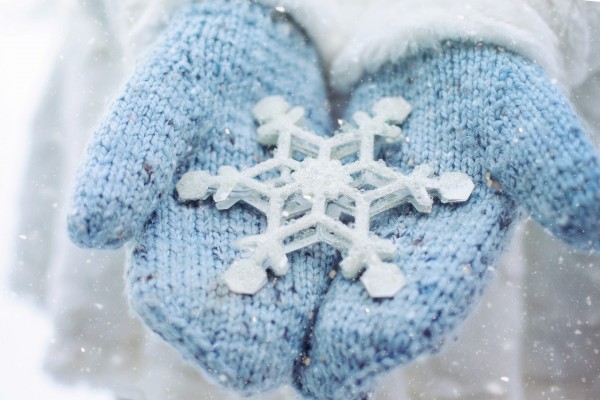 One Day At a Time in Al-Anon states: "Every minute I use in thinking and using the Al—Anon program makes all the hours of my week more livable." Move past the chaos. Use the Al-Anon tools to have a memorable and healthy holiday.
Visit: https://al-anon.org.
---
December 2022
Hints for a Safe Recovery Holiday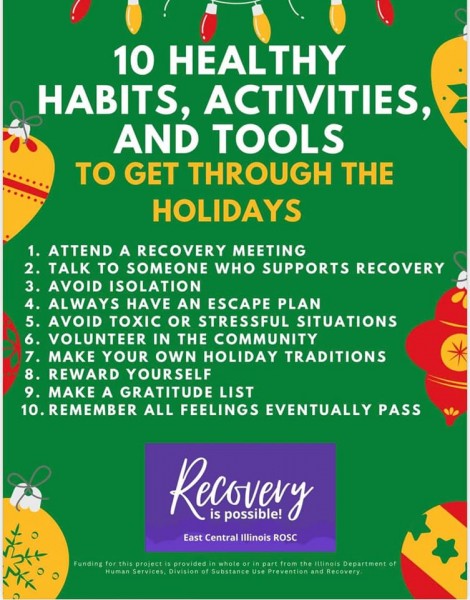 ---
November 2022
Building Resilience & Finding Hope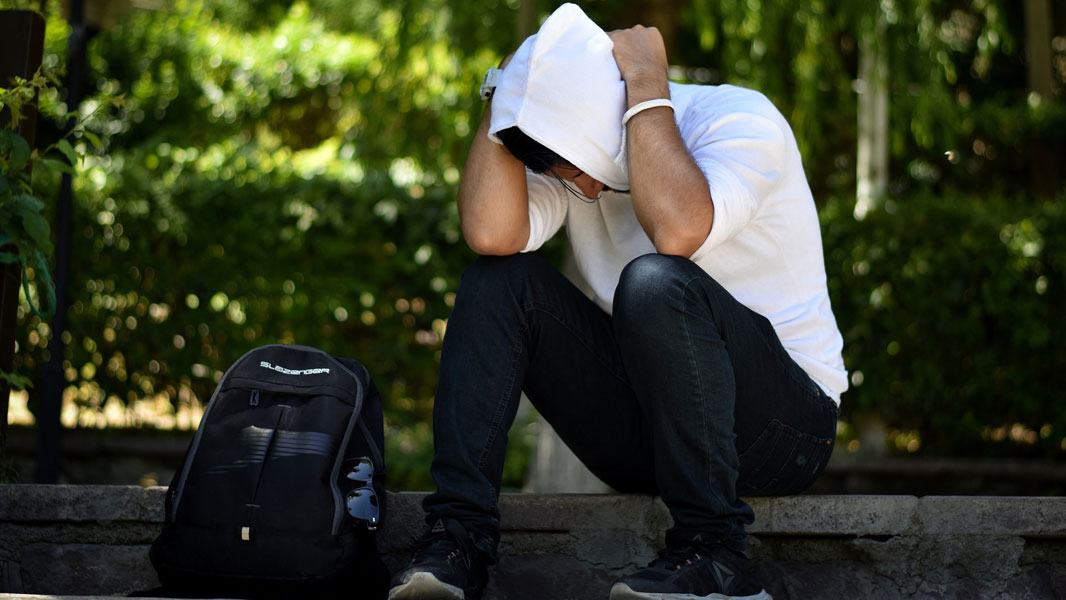 If you work with a population with a risk for suicide, take a look at the following information. According to Hazelden, one of the leading causes of death in the US is suicide and a major concern for everyone in the mental health community. Whether you work with individual clients or provide group therapy, Hazelden Publishing's new Suicide workbook and DVD are designed to help those who have attempted suicide or experienced ideation.
The Suicide workbook and DVD focus on:
Understanding the science behind mental health disorders
Relating mental health to different areas of life
Identifying healthy coping strategies
Challenging unhelpful thinking patterns
Learning grounding and mindfulness techniques
Discovering healthy habits to enhance well-being
Developing assertive communication skills
Planning for ongoing support
Take a look at the new material: Hazelden Store: Suicide Collection.
---
February 2022
Tell Your Story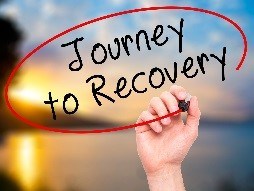 Sometimes understanding the chaos of being in a family or relationship with someone experiencing substance use disorder (SUDs) is overwhelming. AND, sometimes something as simple as listening to other's personal stories may help you through the roughest times. The Partnership to End Addiction offers a group of personal stories on their website. Take a minute to cruise the personal stories of those on a recovery journey if you are a person with SUDs or impacted as a family person. Learn you are not alone.
---
January 2022
"I didn't Cause it;" "I can't Control it;" "I can't Cure it."
If you have a family member or a good friend experiencing a substance use disorder (SUD's), there is most likely chaos in your life. Sometimes it is a good idea to revisit lessons learned by those who have had the experience before you. Remembering the three C's may assist you to manage and move through the chaos. As we continue through the COVID-19 issues, it is easy for those not in a relationship with an active substance using person to forget what the stress, worry and anxiety may be. Since we know persons with SUD's impact others' lives, it becomes even more important for us to find support from others. Learning what SUD's is and how it progresses will help you understand that you did not CAUSE the substance use no matter what your family member may accuse you of. As you move forward you most likely have tried some strategies to CONTROL your family members use, but without success. If you believe their continued use is your "fault," learn that this is not your failure. Understanding that SUD's is a chronic disease and there is no CURE that you that can solve the issue. However, know a healthy recovery journey is possible for both your family member and for you. A healthy recovery is a lifelong process and is most successful with the support of 12-Step meetings or other recovery self-help groups. However, an important first step to consider is family treatment provided by a trained SUD's treatment provider. Take this opportunity to learn and to move forward. Treatment is available virtually in even in our current environment. BE SAFE.