Sometimes change happens an hour at a time
Kinship Care: Caring for Yourself
September 2023
Support Kinship Youth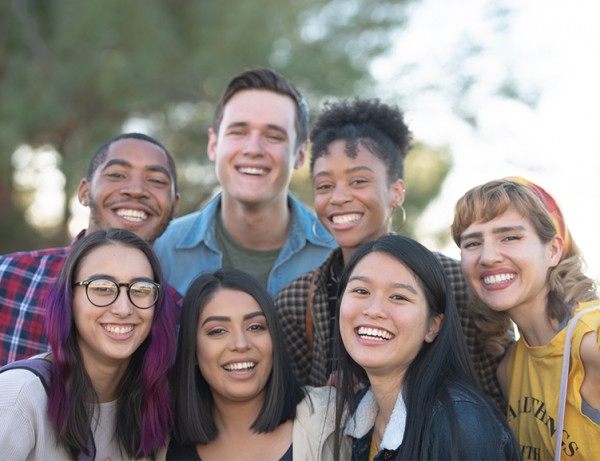 The November 2023 National Adoption Month campaign, "Empowering Youth: Finding Points of Connection," will raise awareness about the importance of professionals and communities in building relationships with youth who are in foster and kinship care to create tools to keep and form lifelong connections that will support and affirm youth as they explore who they are holistically. As families and communities plan to build protective environments for their youth and prevent substance use, check out the tools to help youth feel valued and loved in your community.
Visit Children's Bureau (CB) | The Administration for Children and Families (hhs.gov)
---
July 2023
Kinship Care Defined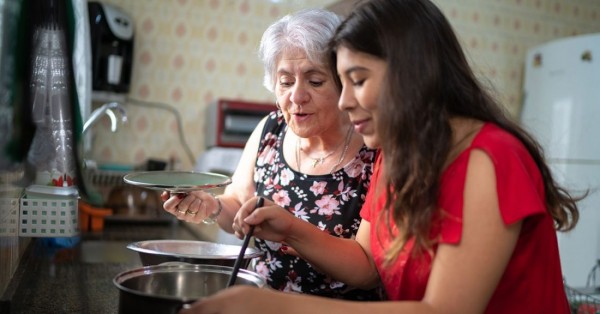 Do you know what kinship care is? Do the terms referring to you as a caregiver confuse you? Kin­ship care is when rel­a­tives step up to raise chil­dren when their par­ents can't care for them for the time being. The Annie E. Casey Foundation shares that today, more than 2.5 million children are in kinship care in our country. If you were raised by a grand­par­ent, an aunt or a close friend, you were raised under kin­ship care. Com­pared to chil­dren in the gen­er­al fos­ter care pop­u­la­tion, kids in kin­ship care tend to be:
Bet­ter able to adjust to their new environment;
Less like­ly to expe­ri­ence school disruptions;
Less like­ly to expe­ri­ence behav­ioral and men­tal health problems;
More sta­ble — they move less than kids in non­fam­i­ly fos­ter care set­tings and have low­er rates of re-abuse;
More like­ly to stay with their sib­lings and main­tain life­long con­nec­tions to family.
Importantly, kin­ship care also helps to min­i­mize trau­ma for chil­dren as well as pre­serve their cul­tur­al iden­ti­ty and con­nec­tions to their communities.
Resources:
Learn more on Kinship Care - The Annie E. Casey Foundation (aecf.org)
---
May 2023
Aging Network Services and Supports for Kin/Grandfamily Caregivers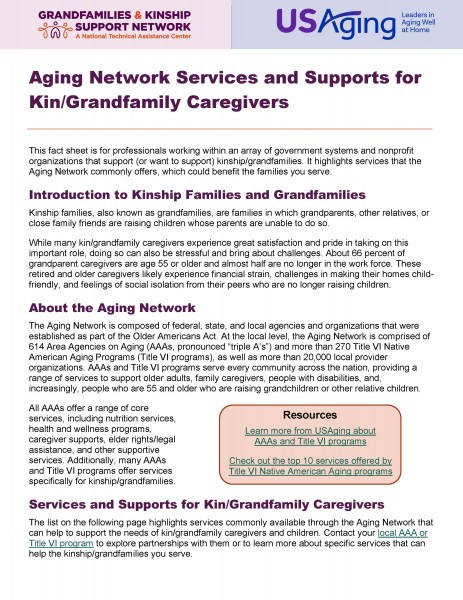 While many kin/grandfamily caregivers experience great satisfaction and pride in taking on the kinship role, doing so can also be stressful and bring about challenges. About 66 percent of grandparent caregivers are age 55 or older and almost half are no longer in the work force. These retired and older caregivers likely experience financial strain, challenges in making their homes child[1]friendly, and feelings of social isolation from their peers who are no longer raising children. Generations United has identified services to help through the Aging Network. Contact your local AAA or Title VI program to explore partnerships with them or to learn more about specific services that can help the kinship/grandfamilies you serve.
Visit: https://www.gksnetwork.org/resources/aging-network-services-and-supports-for-kin-grandfamily-caregivers/
---
April 2023
Visit: www.gu.org for more self-care information.
---
March 2023
Resources for You

The "Grandfamilies & Kinship Support Network: A National Technical Assistance Center" uses the terms "grandfamilies" and "kinship families" interchangeably to refer to families in which grandparents, other adult family members, or close family friends are raising children, with no parents in the home. The parents are not caring for their children for many reasons, including parental substance use, incarceration, military deployment, severe disability, deportation, teenage pregnancy, or death. At least 2.6 million children are being raised in these families across the United States.
To access the resources and information available, check out: Who Are Grandfamilies and Kinship Families? - Grandfamilies & Kinship Support Network (gksnetwork.org).
---
February 2023
Self-Care Tips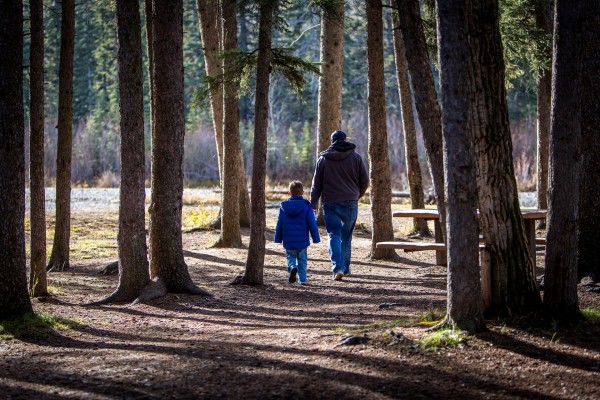 It is reported there are 2.6 million children in the US who living in homes headed by a grandparent, other adult family members, or close family friend without a parent present. These occur both inside and outside of the child welfare system. These families include approximately 30% of children in foster care being raised in kinship families. Even in the best kinship family situations, self-care is vital. For health, physically and mentally, take a look at the tips offered by Generations United and Humana. With many of the "grandfamilies" generated by chaos and substance misuse in the child's environment, setting an example by self-care is a strength to success of the kinship family.
---
January 2023
Al-Anon Support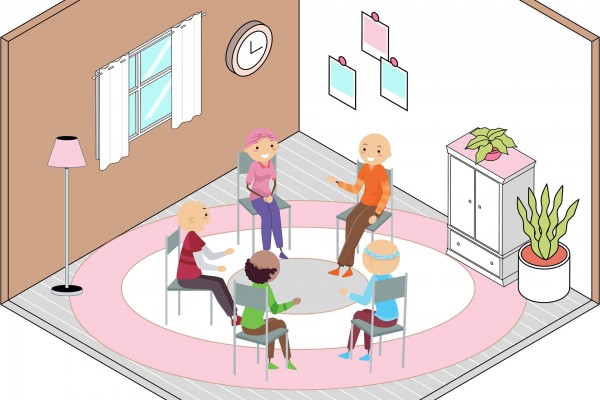 If you live in the chaos of substance use in your family, One Day at a Time in Al-Anon reminds us that arguments are useless against a sickness. "I pray to remember, every day, every hour, and especially in times of crisis, that hostile behavior on my part will only add fuel to a fire that could destroy us both." As a grandparent or another person providing kinship care, you need to take care of yourself to provide the best care and support to your "littles" and their parents.
Visit: https://al-anon.org
---
January 2023
FREDLA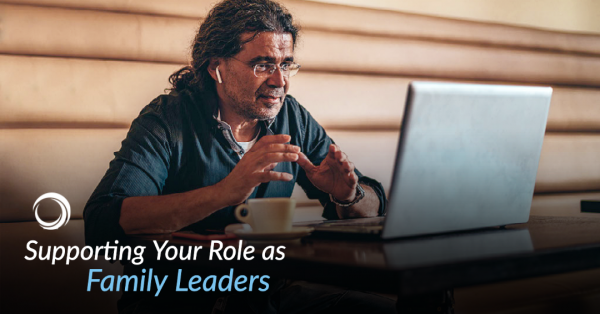 Are you a family leader with lived experience as a primary caregiver of a child, youth, or young adult with mental health or substance use needs due to use or parental use? Are you working in a role that fosters and supports family engagement in agency practice and policy decisions? This may be as a foster parent, kinship caregiver, or as your work focus. If so, are you interested in connecting with other family leaders working in similar roles to expand and enhance your skills and knowledge? The Family-Run Executive Director Leadership Association (FREDLA) offers a peer networking group to share experiences, innovative and effective practices, skills and knowledge, solution to barriers and challenges, and key information supporting your role as family leaders.
The Family Exchange is a Monthly Peer Networking Group for Family Leaders Who Foster and Support Family Engagement. The group is facilitated by experienced family leaders from the Family-Run Executive Director Leadership Association (FREDLA) who foster peer connections; provide access to resources and technical assistance; and support participants to further family engagement within their agency, community, or state.
January Topic: Family Voice in the Ever-Changing Environment; Next Session: Wednesday, January 25, 2023 at CT 2:00 – 3:30

Join the next session of our networking group for family leaders | January Topic: Family Voice (constantcontact.com)
---
January 2023
Managing Your Emotions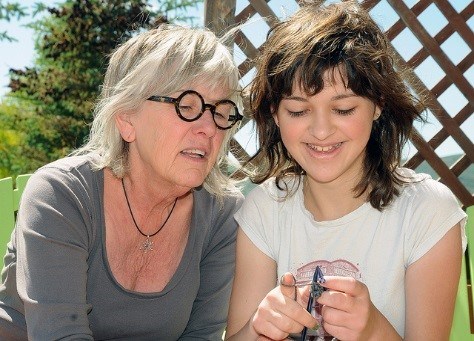 As a grandparent or kinship caregiver, your life has changed. Taking care of your mental health is a key component to managing your daily health, both physical and mental health. Practice self-care, seek a support group and be aware of he needs of your "little" charges along with you needs. Check out the extensive information on the Illinois Department on Aging and the resources you may access. Knowing what is available to help your family through the days ahead in vital and will make this process a valued experience for all of you.
Grandparents Raising Grandchildren Program - Caregiver Support Program (illinois.gov)
---
December 2022
Racial Equity Toolkits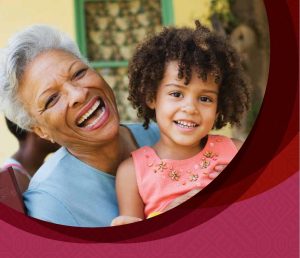 Check out the Toolkits offered by Generations United. The Racial Equity Toolkits are designed to give resources and tips to child welfare agencies, other government agencies, and nonprofit organizations, so they can better serve all "grandfamilies"/kinship families. Generations United has produced a toolkit for American Indian and Alaska Native families, Black families, and Latino families.
Visit: Racial Equity Toolkits Featuring Grandfamilies - Generations United (gu.org).
---
November 2022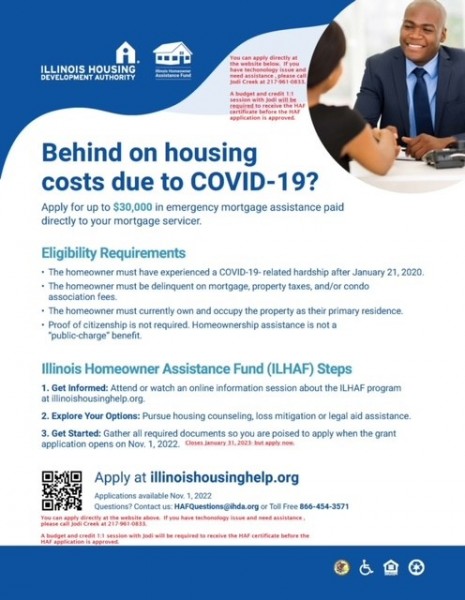 Grandparents, be sure to check out the resources for families in these times of stress. With winter approaching, housing is even more important. Keep you and your family safe especially if you are caring for little ones while their parents are unable. Visit: www.illinoishousinghelp.org.
---
November 2022
Support for Families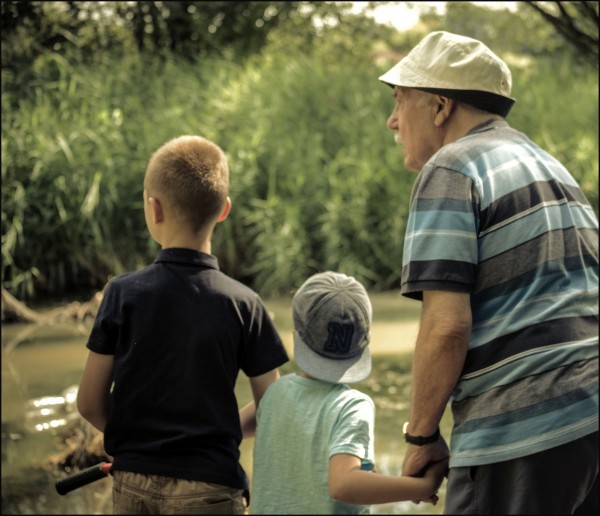 September was National Recovery Month and Kinship Care Awareness Month. This year's National Recovery Month theme, "Every person. Every family. Every community." reminds us that no one is immune to the risks and impact of substance use disorders (SUDs), mental health issues and the impact of gambling. As a result, when parents can no longer care for their children, there is no one better matched to step in than grandparents, other adult kin, or close "family-like" friends. But providing that care can come at a cost to the caregivers' own physical, mental, and financial health and well-being. To help, ACL released the first-ever National Strategy to Support Family Caregivers. It was developed through a collaboration of the Advisory Council to Support Grandparents Raising Children and the Recognize, Assist, Include, Support, and Engage (RAISE) Act Family Caregiving Advisory Council. Find out more about the support developing nationally and the importance of being involved.
Go to: Supporting Kinship Families & Grandfamilies Affected by Substance Use Disorders | ACL Administration for Community Living.
---
October 2022
What is the most important thing in Hispanic culture?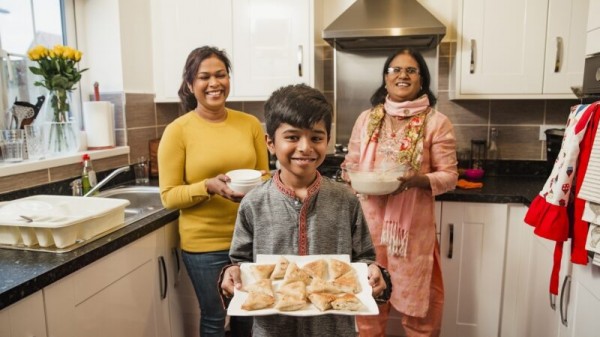 Do you Know? PBS Kids invites you to celebrate Hispanic Heritage Month. Each year, Americans observe National Hispanic Heritage Month from September 15 to October 15, by celebrating the histories, cultures and contributions of American citizens whose ancestors came from Spain, Mexico, the Caribbean and Central and South America. Honoring family traditions is important to kids and grown-ups across backgrounds and cultures. Sharing special traditions can strengthen family bonds and create a sense of belonging to children and grown-ups. Traditions can help us connect with cultural or religious roots. They are often shared and passed on to others — sometimes through generations.
Family traditions can include activities, recipes, and acts of kindness. They can be done at any time to celebrate anything! Want to start a new tradition with your family? Make it simple and not stressful. Your new tradition can be daily, weekly, monthly, or set for special holidays. Involve your kids in making family traditions and then share them with other family members. The most important thing in Hispanic culture… Traditionally, respect for one's elders and authority figures is an essential aspect of Hispanic culture. Additionally, Hispanic culture places much importance on the concepts of self-respect, dignity, and pride.
Learn more at: What Are Your Favorite Family Traditions? |… | PBS KIDS for Parents.
---
August 2022
The Lifeline Works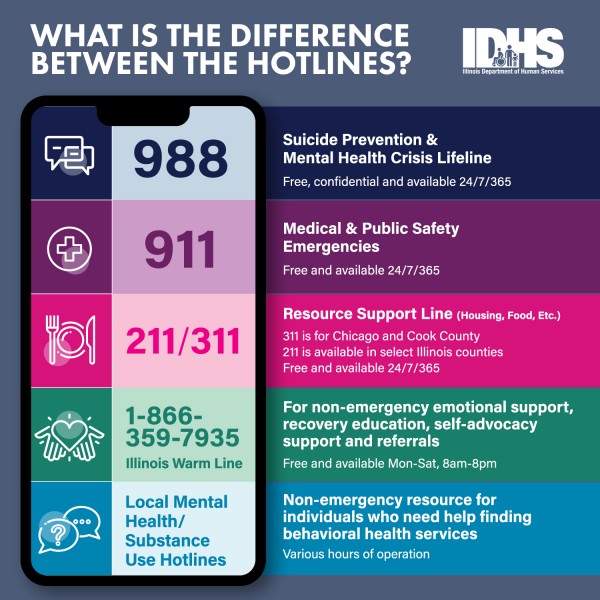 Are you or someone you know having thoughts of suicide or experiencing a mental health or substance use crisis? 988 connects you to compassionate, confidential support for free. 988 is the new three-digit dialing code for the Suicide and Crisis Lifeline. For years, the Lifeline – formerly known as the National Suicide Prevention Lifeline –has answered tens of millions of calls and helped people overcome mental health-related distress. 988 is the same trusted resource. When you call, text, or chat 988, you'll be quickly connected to trained crisis counselors who will listen to your concerns, provide support, and get you additional help if needed. There is HOPE. The Lifeline WORKS. You are not alone in crisis. Just call 988.
---
JULY 2022
Grands Taking Care of Your Mental Health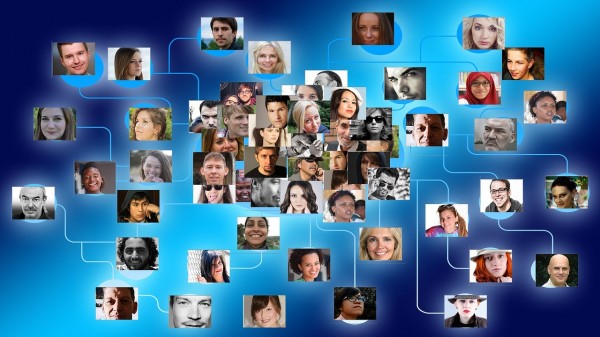 Beginning July 16, 2022, 988 the new three-digit dialing code connecting people to the existing National Suicide Prevention Lifeline, where compassionate, accessible care and support is available for anyone experiencing mental health-related distress—whether that is thoughts of suicide, mental health or substance use crisis, or any other kind of emotional distress. People can also dial 988 if they are worried about a loved one who may need crisis support. If you have questions regarding how this relates to other services or how to use the system.
Check out: 988 Frequently Asked Questions | SAMHSA.
---
July 2022
Resources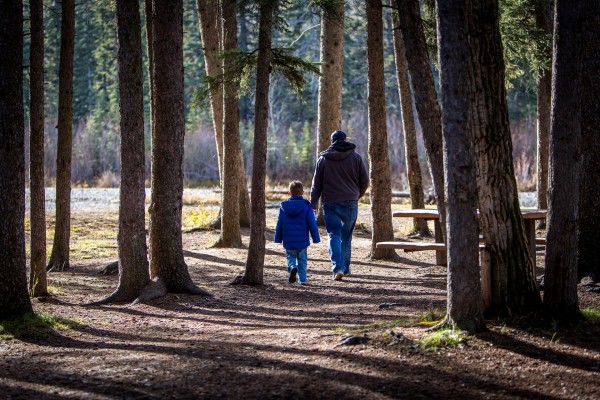 If you are a grandparent or other kinship caregiver, Generations United has updated their state fact sheets that include resources for assistance on this journey. take a minute to do an assessment of your potential needs (or wishes) and review the Generations United information.
Visit: Illinois GrandFacts State Fact Sheet 2021 Update.pdf (grandfamilies.org)
---
February 2022
Grandfamilies are Great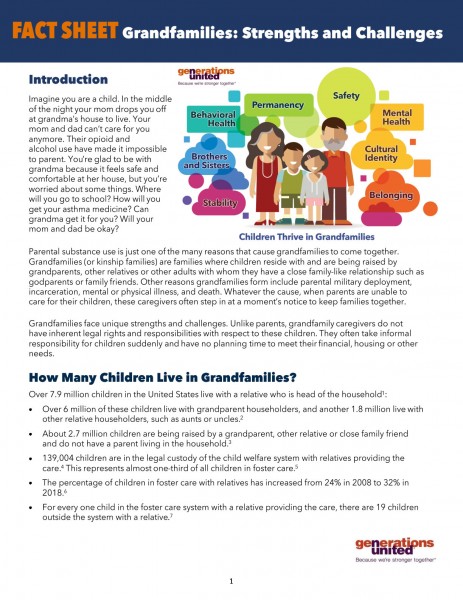 Generations United has shared news addressing the issue of grandparents and other relatives raising grandchildren. "Grandfamilies" are families in which children live and are being raised by grandparents or other extended family members with whom they have a family-like relationship. That may include godparents and close family friends. The data shows approximately 7.8 million children across the country live in households headed by grandparents or other relatives. About 2.5 million grandparents report they are responsible for their grandchildren's needs. In about a third of these homes neither of the children's parents are in the home.
Despite facing many barriers, research shows that the children in "grandfamilies" thrive. Caregivers also experience benefits like an increased sense of purpose in life. Keep updated on grandfamilies news by signing up for their quarterly newsletter, The Grand Voice.
Visit and learn more about the new family generation. Grandfamilies - Generations United (gu.org). For additional information check out Relatives Raising Children/Extended Family Support - Loving Homes