Sometimes change happens an hour at a time
For Everyone: Webinar Schedule
Subscribe to be notified about upcoming webinars!
November 6th, 2023 @ 10am
The Family Recovery Journey: Recognizing The Grief Process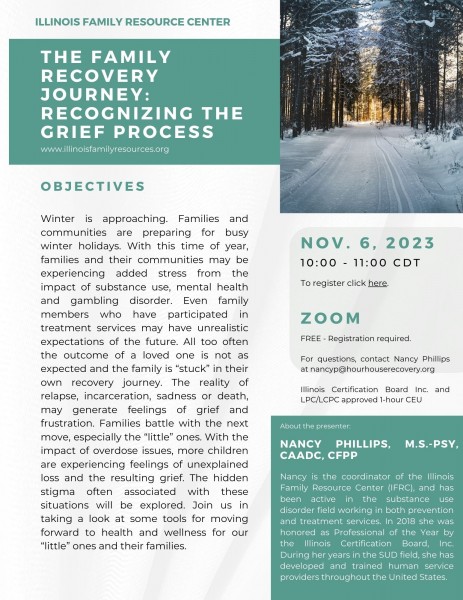 ---
September 27th, 2023 @ 1pm
Drug Endangered Children: Parental Substance Use and the Effects on the Children
Presented by: Liesl Wingert, BS, MHA
As our communities unite to address the issues concerning children who are exposed to the risks and hazards associated with their parents' substance misuse, the Illinois Family Resource Center extends an invitation for you to delve deeper into the strategies put forth by the National Alliance for Drug Endangered Children (DEC).
The DEC initiative revolves around early identification of children who face potential harm due to a caretaker's misuse of legal or illicit substances, appropriate intervention, and provision of support to both the children and their family members. In this webinar, we will engage in a dialogue about how a collaborative community effort can positively influence these families, as well as explore the various hardships that these children undergo.
Liesl Wingert, BS, MHA

Liesl is the Program Coordinator for the eastern region of the SIU School of Medicine - Center for Rural Health and Social Service Development. She holds a Bachelor of Science degree from Indiana University in Human Development and Family Studies, with a minor in Sociology, as well as a Master of Health Administration from the University of Southern Indiana.

She has worked in the medical field in various capacities for the ast 35 years. She is currently a Certified Drug Endangered Children Trainer and Advisory Board Member for the National Alliance for Drug Endangered Children. She also sits on the Board of Directors for Take Action Today, SACIS-CAISA, the Illinois Association for Problem Solving Courts, and serves on the Free Methodist Church Ministerial Education and Guidance Board of the Wabash Conference. She is the Co-Chair for the Illinois Alliance for Drug Endangered Children, as well as the Chair for the Richland County Alliance for Drug Endangered Children.
---
August 23rd, 2023
Look for Risk Factors: Find Your Protective Factors
Presented by: Nancy Phillips of Illinois Family Resource Center
The world in which we are living has changed over the last couple of years. As our families and communities move through our current changing environment, a "new normal" has been created. It appears that these changes in our lifestyle and our ability to return to our past environment is having an impact on substance use and mental health issues in our communities. Join us to explore the risk and protective factor research and share strategies to move family and community issues toward resiliency, thus building stronger communities with a commitment to healthy recovery environments.
---
July 24th, 2023
The Family Journey: From Chaos to Recovery
Presented by: Nancy Phillips of Illinois Family Resource Center
As we move into the summer and we are managing issues to support our family time with healthy summer activities, we also know summer often includes family and community events that create opportunities for substance misuse. Come along with the Illinois Family Resource Center to explore the family dynamics you may be feeling if a loved one is experiencing substance use disorder (SUDs) and mental health issues. Explore resources and support for our families and our communities on their recovery journey.
---
May 2023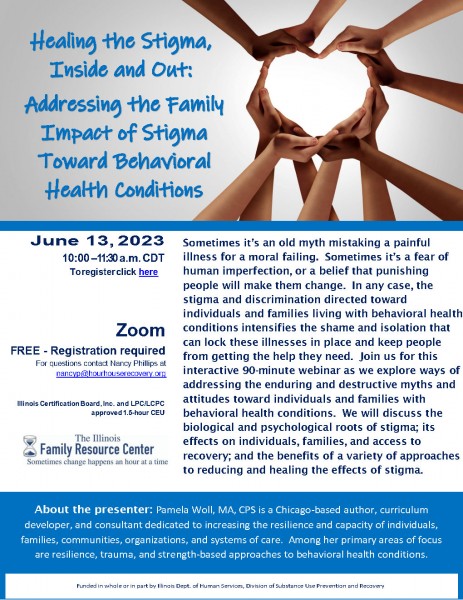 ---
May 2023

---
April 2023
---
February 2023